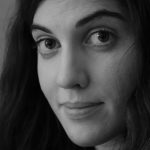 Nicole Flattery Reads Keith Ridgway
The Stinging Fly Podcast
Nicole Flattery, author of the newly-published debut collection, Show Them A Good Time, joins Danny Denton in the studio to talk about 'Andy Warhol', a story by Keith Ridgway taken from the Winter 2011 issue of the magazine, and recently collected in the Stinging Fly Stories anthology.
Nicole Flattery's stories have been published in The Irish Times, The Dublin Review, The White Review, Winter Papers, The Letters Page and The Stinging Fly. She is a recipient of a Next Generation Artists' Award from the Arts Council and The White Review Short Story Prize. Originally from Mullingar, Nicole now lives in Galway. Show Them A Good Time is published by The Stinging Fly Press, and Bloomsbury in the UK.
Keith Ridgway is from Dublin. He is the author of The Long Falling (Faber, 1998, Houghton Mifflin, 1998), Standard Time (Faber, 2001), Horses (Faber, 2003), The Parts (Faber, 2003, St. Martin's Press, 2004), Animals (Fourth Estate, 2007), and Hawthorn & Child (Granta Books, 2012, New Directions 2013). His short fiction has been published in The New Yorker, Granta, Zoetrope, Stinging Fly, and others. He has reviewed fiction for The Irish Times, The Daily Telegraph and The Guardian. He has taught fiction writing courses in Dublin, and ­since 2013 ­at the Faber Academy. He has been awarded the Prix Femina in France and The Rooney Prize for Irish Literature. He lives in south London.
Correction: In the podcast, Danny and Nicole incorrectly refer to AIDS as a virus, which it isn't. HIV refers to 'human immunodeficiency virus', whilst AIDS is a clinical syndrome. We apologise for using an incorrect term, and hope it doesn't cause offence, or sustain stigma. It certainly wasn't our intention, and we've re-educated ourselves here.
---
The Stinging Fly Podcast invites Irish writers to choose a story from the Stinging Fly archive to read and discuss. Previous episodes of the podcast can be found here. The podcast's theme music is 'Sale of Lakes', by Divan. All of the Stinging Fly archive is available for subscribers to read – subscribe now and access 20 years of the best new writing.