Sean O'Reilly's latest collection of stories, Levitation, has been out in the world for a few weeks now and the reviews have been coming thick, fast, and positive. 
"These are stories of pain and loss, belonging and forgetting," wrote Abigail Tuite for RTE Culture. "The book's motley crew are broken people just trying to get by and their wounds are sensitively explored in this immersive, lush collection. A curious and exciting writer, O'Reilly is really something of a revelation, brace yourself."
RTE also have an exclusive extract from the title story, which you can read here. 
In the Irish Independent, Hilary White says that O'Reilly's "long-awaited return to print has a strikingly frayed quality that is most refreshing at a time when literary fiction can sometimes seem too obsessed with pretty brushstrokes." White goes on to say that Levitation "makes for an uncommon reading experience but one that you must buy into wholesale. It cannot be read passively, and asks that you suspend certain thought patterns. O'Reilly has spoken of his desire for a story to open dialogue with the reader. This will only happen if the reader is prepared to adjust their aperture and depth of field, which some may find too exerting. Those who do, however, will not quickly forget the experience."
Also in the Independent, Kim Bielenberg orchestrated a short Q&A with our man.
Martina Evans reviewed Levitation for the Irish Times, noting that, while the book (and the title story in particular) contains echoes of Ulysses, "O'Reilly's voice is all his own: intelligent, lyrical and deeply funny." Levitation, she says, "flies on the wind of the best of fiction." 
Francesca Comyn cast an eye over the book in a recent edition of the Sunday Business Post, saying "the stories crackle with life… O'Reilly gets into the heads and under the nails of his characters," while Louisa Carroll in the Sunday Times noted how Levitation "reflects its disembodied characters and their failure to inhabit fully their lives and the world in a meaningful way."
O'Reilly's hometown paper, the Derry Journal, also gave notice of the book's appearance.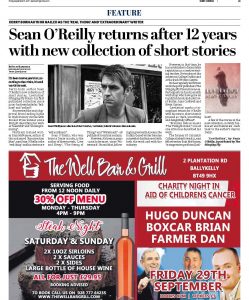 Finally, after the successful launching of Levitation in Dublin earlier this month, we'll be heading up to Belfast next week to launch it even further. Please join us at No Alibis Bookstore (83 Botanic Ave.) at 6.30pm next Wednesday, September 27th, for some fun and games.