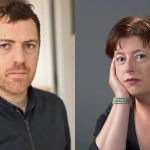 Adrian Duncan Reads Vona Groarke
The Stinging Fly Podcast
On this month's episode of The Stinging Fly Podcast, Ian Maleney is joined by Adrian Duncan, to read a piece from the Summer 2008 issue of the Stinging Fly, an essay from the 'First Passions' series written by the Longford poet Vona Groarke.
Adrian is the Berlin-based author of two novels, Love Notes from A German Building Site, which won the John McGahern Book Prize in 2019, and A Sabbatical in Leipzig. His first collection of short stories, Midfield Dynamo, was published earlier this year by Lilliput Press. Aside from writing, Adrian has also worked as a structural engineer, visual artist, and film-maker. He is the co-editor of Paper Visual Arts, a contemporary art publication based between Berlin and Dublin.
Vona Groarke has published six collections of poetry with the Gallery Press, as well as the book-length essay, Four Sides Full. A former editor of the Poetry Ireland Review, Vona's writing has won the Michael Hartnett Award, and been shortlisted for the Forward Prize. She currently teaches at the Centre for New Writing at the University of Manchester, and is a member of Aosdána.
---
The Stinging Fly Podcast invites Irish writers to choose a story from the Stinging Fly archive to read and discuss. Previous episodes of the podcast can be found here. The podcast's theme music is 'Sale of Lakes', by Divan. All of the Stinging Fly archive is available for everyone to read during the coronavirus crisis.