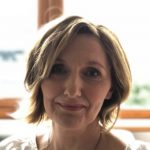 Anne Griffin Reads Oisín Fagan
The Stinging Fly Podcast
In this episode of the podcast, Sally Rooney is joined in the studio by Anne Griffin. They read and discuss Oisín Fagan's story, 'Scaffolding', first published by The Stinging Fly in Spring 2015.
Anne Griffin is the recipient of the John McGahern Award for Literature. Previously shortlisted for The Hennessy New Irish Writing Award and The Sunday Business Post Short Story competition, Anne's work has appeared in The Irish Times and The Stinging Fly, amongst others. Anne's debut novel, When All Is Said, was published in January 2019 by Hodder's Sceptre imprint in the UK and Ireland, and St Martin's Press' Thomas Dunne Books imprint in the US and Canada. It has topped the bestseller list in Ireland since its publication.
Oisín Fagan has had short fiction published in The Stinging Fly, New Planet Cabaret and the anthology Young Irelanders, with work featured in the Irish Museum of Modern Art. In 2016, he won the inaugural Penny Dreadful Novella Prize for The Hierophants. Hostages, his first collection, was also published in 2016 by New Island. His debut novel, Nobber, will be published in July 2019 by John Murray Originals.
---
The Stinging Fly Podcast invites Irish writers to choose a story from the Stinging Fly archive to read and discuss. Previous episodes of the podcast can be found here. The podcast's theme music is 'Sale of Lakes', by Divan. All of the Stinging Fly archive is available for subscribers to read – subscribe now and access 20 years of the best new writing.