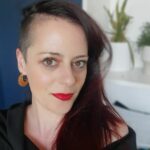 Annemarie Ní Churreáin talks to Declan Meade
The Stinging Fly Podcast
On this month's episode, publisher and founding editor Declan Meade is joined by poet Annemarie Ní Churreáin who has just been announced as The Stinging Fly's next poetry editor. Annemarie will take over the role from Cal Doyle in November. Here she talks about her own work as poet and editor, and reads recently published poems by Paula Meehan and Chandrika Narayanan-Mohan.
Annemarie Ní Churreáin is a poet and editor from the Donegal Gaeltacht. Her publications include Bloodroot (Doire Press, 2017), Town (The Salvage Press, 2018) and The Poison Glen (The Gallery Press, 2021). She is a recipient of the Arts Council's Next Generation Artist Award and a co-recipient of The Markievicz Award. Her literary fellowships include awards from Akademie Schloss Solitude in Germany and the Jack Kerouac House in Orlando. Annemarie was a 2022-2023 Decades of Centenaries Poet in Residence at the Donegal County Service Archives and she is an active member of the Writers in Irish Prisons Scheme. Annemarie has edited The Stony Thursday Book No. 18 (Winter 2022) and the current issue of Poetry Ireland Review (140).
Paula Meehan's poem 'Natal Horoscope' is one of four of her poems that were included in our poetry issue, Summer 2022. Paula's latest collection, The Solace of Artemis, will be published by Dedalus Press in November.
Chandrika Narayanan-Mohan's poem 'The Knee' was published in our all new writers issue, Winter 2022-23. More of her work has been published by Dedalus Press, UCD Press, Lifeboat Press, Banshee, Poetry Ireland, and others.
---
The Stinging Fly Podcast invites writers to choose work from our 25-year archive to read and discuss. Previous episodes of the podcast can be found here. The podcast's theme music is 'Sale of Lakes', by Divan. All of the Stinging Fly archive is available to subscribers.