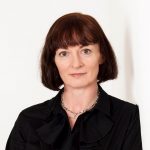 Cathy Sweeney Reads Tania Hershman
The Stinging Fly Podcast
In the first episode of 2020, Declan Meade is joined by Cathy Sweeney, to read from and discuss the work of Tania Hershman. Cathy reads a piece of short fiction, 'Fine as Feathers', and a poem, 'Against Joy'.
Cathy Sweeney's writing has been published in The Stinging Fly, The Dublin Review, Egress, Winter Papers, Banshee, and The Tangerine. Her stories have also been broadcast on BBC Radio 4. Her debut collection of short fiction, Modern Times, will be published by Stinging Fly Press later this month.
Tania Hershman is a poet, writer, teacher and editor based in the North of England. A former science journalist, she has published three collections of short stories and a poetry collection, while her work has been broadcast on BBC Radio 3 and BBC Radio 4. Her writing has appeared several times in The Stinging Fly over the years.
---
The Stinging Fly Podcast invites Irish writers to choose a story from the Stinging Fly archive to read and discuss. Previous episodes of the podcast can be found here. The podcast's theme music is 'Sale of Lakes', by Divan. All of the Stinging Fly archive is available for subscribers to read – subscribe now and access 20 years of the best new writing.