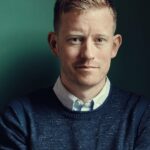 Colin Barrett Reads David McGrath
The Stinging Fly Podcast
On this month's episode, host Nicole Flattery is joined by writer Colin Barrett to read and discuss David McGrath's short story, 'The Untameable Donkey', originally published in our All New Writers issue, Winter 2022/23.
Colin Barrett grew up in County Mayo. His stories have been published in The Stinging Fly, Granta, Harper's and the New Yorker. His first book, the short story collection Young Skins, won the Guardian First Book Award, the Frank O'Connor International Short Story Award and the Rooney Prize for Irish Literature. His second collection, Homesickness, made the New York Times 100 Notable Books of the Year and was a Book of the Year in Oprah Daily and the Irish Times. His first novel, Wild Houses, will be published in early 2024.
David McGrath is from Baltinglass. His stories at the moment centre around a fictional pub in rural Ireland, of which 'The Untameable Donkey' is a part. He has won the Bryan MacMahon Short Story Competition and the Bare Fiction Prize with them, as well as being placed in several other competitions. He has been awarded a residency in Cill Rialaig Arts Centre in November 2023 to finish his novel, The Crack is Barred, which is also set in the world of the pub.
Nicole Flattery is a writer and critic. Her story collection Show Them A Good Time, was published by The Stinging Fly and Bloomsbury in 2019. Her first novel, Nothing Special, was recently published by Bloomsbury.
---
The Stinging Fly Podcast invites writers to choose a story from the Stinging Fly archive to read and discuss. Previous episodes of the podcast can be found here. The podcast's theme music is 'Sale of Lakes', by Divan. All of the Stinging Fly archive is available to subscribers.