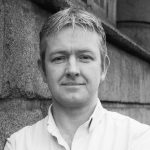 Colm Keegan Reads Sean O'Reilly
The Stinging Fly Podcast
The Stinging Fly Podcast returns for its March edition, with Colm Keegan joining Sally Rooney to read and discuss 'The Cavalcade' by Sean O'Reilly, a dark narrative of sexual power games which first appeared in our Winter 2013 issue. 
Sean O'Reilly was born in Derry in 1969. He has published two collection of short stories, Curfew and Other Stories (Faber & Faber, 2000), and Levitation (The Stinging Fly Press, 2017). His novels are Love And Sleep (Faber & Faber, 2002); The Swing of Things (Faber & Faber, 2004); and Watermark (The Stinging Fly Press, 2005). He lives in Dublin. 'The Cavalcade' appears in Sean's second collection, Levitation, and is available to read on our website.
Colm Keegan is a writer and performance poet from Dublin, Ireland. Since 2005, he has been shortlisted four times for the Hennessy New Irish Writing Award, for both poetry and fiction and won the All Ireland Poetry Slam in 2010. In 2015 he was awarded a residency in the DLR Lexicon, Ireland's largest public library. He is a creative writing teacher and co-founder of the Inklinks Project, a creative writing initiative for young writers. He is a co-founder and board member of Lingo, Ireland's first Spoken Word festival.
Colm's debut poetry collection, Don't Go There, was released in 2012, and his second, Randomer, has just been published by Salmon Poetry.
---
The Stinging Fly Podcast invites Irish writers to choose a story from the Stinging Fly archive to read and discuss. Previous episodes of the podcast can be found here. The podcast's theme music is 'Sale of Lakes', by Divan. All of the Stinging Fly archive is available for subscribers to read – subscribe now and access 20 years of the best new writing.