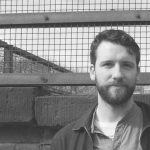 Danny Denton Reads Nicole Flattery
The Stinging Fly Podcast
The Stinging Fly Podcast returns for its February edition, with Danny Denton discussing the surreal tragicomedy of Nicole Flattery's 'Show Them A Good Time'. The story was first published in our Summer 2016 issue.
Nicole Flattery's short fiction and essays have been published in several leading publications, including the Stinging Fly, the Dublin Review, and the Irish Times, and she won the 2017 White Review Short Story Prize for her story, 'Track'. She received a Next Generation Bursary from the Arts Council in 2017, and her first collection will be published by the Stinging Fly Press in 2019.
Danny Denton's first novel, The Earlie Kid and the King in Yellow, was published earlier this year by Granta books. His short fiction and poetry have appeared in numerous journals, including the Stinging Fly and the Tangerine. He has recently been appointed writer-in-residence at Cork County Library.
---
The Stinging Fly Podcast invites Irish writers to choose a story from the Stinging Fly archive to read and discuss. Previous episodes of the podcast can be found here. The podcast's theme music is 'Sale of Lakes', by Divan.