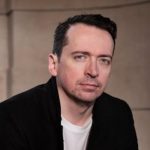 Darran Anderson Reads Mary O'Donoghue
The Stinging Fly Podcast
On this month's episode, host Nicole Flattery is joined by writer Darran Anderson to read and discuss Mary O'Donoghue's short story, 'During the Russian Blizzard'.
The story first appeared in the Summer 2014 issue of the magazine and was included in Stinging Fly Stories, 2018. It is one of twelve stories included in The Hour After Happy Hour, Mary's forthcoming short-story collection, which The Stinging Fly Press will publish this summer.
Darran Anderson is an Irish essayist, journalist, and memoirist, and is the author of Imaginary Cities (2015) and Inventory (2020). Over the past decade, he has written on the intersections of culture, politics, urbanism, and technology for a wide variety of publications, including The Atlantic, frieze magazine, The Guardian, and the Times Literary Supplement. Shortly after this podcast was recorded, he was one of eight writers worldwide to be awarded Yale University's Windham-Campbell Prize.
Nicole Flattery is a writer and critic. Her story collection Show Them A Good Time, was published by The Stinging Fly and Bloomsbury in 2019. Her first novel, Nothing Special, was recently published by Bloomsbury.
---
The Stinging Fly Podcast invites writers to choose a story from the Stinging Fly archive to read and discuss. Previous episodes of the podcast can be found here. The podcast's theme music is 'Sale of Lakes', by Divan. All of the Stinging Fly archive is available to subscribers.