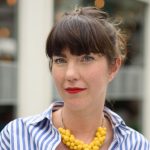 Emilie Pine Reads Julian Gough
The Stinging Fly Podcast
In the September edition of the podcast, Sally Rooney is joined in the studio by Emilie Pine. They read and discuss Julian Gough's essay, 'How To Edit Your Own Lousy Writing', published on the Stinging Fly website in October 2017.
Emilie Pine is the best-selling author of Notes To Self, a collection of essays published by Tramp Press, and Associate Professor in Modern Drama at University College Dublin, Ireland. She has published widely on Irish culture, including reviews for RTÉ's Arena, Irish Theatre Magazine and the Irish Times. Emilie has contributed to numerous academic publications as well as to the Stinging Fly. She is editor of the Irish University Review. Notes to Self is her first collection of essays.
Julian Gough's latest novel, Connect, is published by Picador (UK), and Doubleday (US). His latest children's book (and his masterpiece), Rabbit & Bear: Attack of the Snack, was published by Hodder Children's Books in early 2018. The first 'Rabbit & Bear' book, Rabbit's Bad Habits, was shortlisted for an Irish Book of the Year Award in 2016, and has been translated into 15 languages, including Nepalese. Nepalese! He has written many short stories, three novels, a book of poetry, two radio plays and a stage play. In the process of doing so, he has won the BBC National Short Story Award, and been shortlisted for a Sainsbury's Children's Book Award, the Davy Byrnes Irish Writing Award, and the Bollinger Everyman Wodehouse Prize (twice). He also wrote the weird and wordy ending to the most successful computer game of all time, Minecraft. He has taught creative writing in Trinity College Dublin, the University of Limerick (just up the road from his parents), and Singapore's Nanyang Technological University (ranked the #1 university in Asia). He has a website, but it's covered in weeds because he is lazy. He is @juliangough on Twitter. Feel free to say hi.
---
The Stinging Fly Podcast invites Irish writers to choose a story from the Stinging Fly archive to read and discuss. Previous episodes of the podcast can be found here. The podcast's theme music is 'Sale of Lakes', by Divan. All of the Stinging Fly archive is available for subscribers to read – subscribe now and access 20 years of the best new writing.