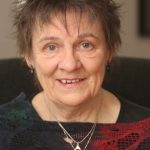 Evelyn Conlon Reads 'The Park'
The Stinging Fly Podcast
In a special edition of the podcast, Ian Maleney visits Evelyn Conlon to read and discuss 'The Park', her story about Pope John Paul II's visit to Ireland in 1979. 
Evelyn Conlon is an Irish novelist and short story writer. Born in Co. Monaghan, she now lives in Dublin. She has published three collections of short stories, My Head is Opening, Taking Scarlet as a Real Colour, and Telling – New and Selected Short Stories, from which 'The Park' is taken. Her most recent novel, Not the Same Sky, was published in 2015. Evelyn's contributions to the Stinging Fly can be found in our archive.
---
The Stinging Fly Podcast invites Irish writers to choose a story from the Stinging Fly archive to read and discuss. Previous episodes of the podcast can be found here. The podcast's theme music is 'Sale of Lakes', by Divan. All of the Stinging Fly archive is available for subscribers to read – subscribe now and access 20 years of the best new writing.