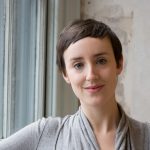 Jessica Traynor Reads Wendy Erskine
The Stinging Fly Podcast
In the November edition of the podcast, Sally Rooney is joined in the studio by Jessica Traynor. They read and discuss Wendy Erskine's story, 'To All Their Dues', first published by the Stinging Fly in Summer 2016 and included in Erskine's recently-published debut collection, Sweet Home.
Jessica Traynor was born in Dublin in 1984. Her poems have been published widely, and her debut collection, Liffey Swim (Dedalus Press, 2014), was shortlisted for the Strong/Shine Award. She won the Listowel Poetry Prize in 2011, was named Hennessy New Irish Writer of the Year in 2013, and in 2014 was the recipient of the Ireland Chair of Poetry Bursary. She has been commissioned by the Arts Council, Poetry Ireland, and the Salvage Press. She has worked as Literary Manager for the Abbey Theatre and is currently Deputy Museum Director at EPIC The Irish Emigration Museum. Her latest collection, The Quick, has just been published by Dedalus Press. 
Wendy Erskine lives in Belfast. Her work has been published in The Stinging Fly, Stinging Fly Stories and Female Lines: New Writing by Women from Northern Ireland (New Island Books) and is forthcoming in Being Various: New Irish Short Stories (Faber and Faber), Winter Papers and on BBC Radio 4. Erskine's debut collection, Sweet Home, was published by the Stinging Fly Press in September 2018.
---
The Stinging Fly Podcast invites Irish writers to choose a story from the Stinging Fly archive to read and discuss. Previous episodes of the podcast can be found here. The podcast's theme music is 'Sale of Lakes', by Divan. All of the Stinging Fly archive is available for subscribers to read – subscribe now and access 20 years of the best new writing.