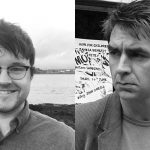 John Patrick McHugh Reads Sean O'Reilly
The Stinging Fly Podcast
On this month's episode of the podcast, editor Danny Denton is joined by writer John Patrick McHugh, to read and discuss Sean O'Reilly's story 'All Day And All Of The Night', which first appeared in our Winter 2011 issue.
John Patrick McHugh is from Galway. His fiction has appeared in Winter Papers, The Tangerine, Banshee, Granta and The Stinging Fly. Pure Gold, his debut collection of short stories, was published by New Island in February of this year, and by Fourth Estate in June. He is currently guest editing an issue of Banshee.
Sean O'Reilly was born in Derry in 1969. He has published two collections of short stories, Curfew and Other Stories (2000) and Levitation (2017), and three novels: Love and Sleep (2002), The Swing of Things (2004) and Watermark (2005). He is a member of Aosdána.
---
The Stinging Fly Podcast invites Irish writers to choose a story from the Stinging Fly archive to read and discuss. Previous episodes of the podcast can be found here. The podcast's theme music is 'Sale of Lakes', by Divan. All of the Stinging Fly archive is available for everyone to read during the coronavirus crisis.