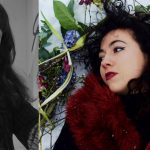 Maija Sofia Reads Louise Hegarty
The Stinging Fly Podcast
This month on the Stinging Fly podcast, we're taking a little diversion from our usual format to present a special reading of a story from our Summer 2020 issue. 'Getting the Electric' was written by Louise Hegarty, and is read here by musician Maija Sofia.
This recording was made as part of View Source, a unique online publication, curated by Fallow Media and commissioned by Solas Nua, celebrating contemporary Irish literature at its most adventurous. Working alongside six cutting-edge literary publications in Ireland today – The Stinging Fly, The Dublin Review, Gorse, Banshee, Winter Papers, and Fallow Media – View Source invited writers and artists to reimagine stories, poems, and essays first made available in print. You can experience all the writing and sounds, and find out more about the project, at https://viewsource.solasnua.org/.
Louise Hegarty has had work published in Banshee, The Tangerine, and The Dublin Review. Recently, she had a short story featured on BBC Radio 4's Short Works. She lives in Cork.
Maija Sofia Makela is a musician, songwriter and artist who works between the overlapping worlds of sound, performance and text. Across various forms, her work explores language, shadowed histories, hauntings, diasporic identity, feminism, mysticism and folklore. She is from rural Galway and is of mixed Irish, Finnish and Turkish-Cypriot heritage. She is a recipient of the Arts Council of Ireland's Next Generation Award for music (2020), her debut album, Bath Time, was shortlisted for the Choice Award album of year and she was artist-in-residence at Sirius Arts Centre for the duration of winter 2020-21.