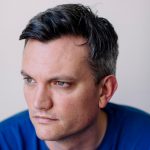 Mark O'Connell Reads Roisín Kiberd
The Stinging Fly Podcast
Mark O'Connell, author of To Be A Machine and Notes from an Apocalypse, joins Ian Maleney to read and discuss 'Bland God: Notes on Mark Zuckerberg', an essay from our Summer 2018 issue written by Roisin Kiberd.
Mark O'Connell is a writer based in Dublin. His books, To Be a Machine: Encounters With a Post-Human Future, and Notes From An Apocalypse, are published by Granta in the UK, and Doubleday in the US. He is a regular contributor to The New Yorker's "Page-Turner" blog; his work has been published in The New York Times Magazine, The New York Times Book Review, The Observer, and The Independent.  He has a PhD in English Literature from Trinity College Dublin, and in 2013 his academic monograph on the work of the novelist John Banville, John Banville's Narcissistic Fictions, was published by Palgrave Macmillan. He was an Irish Research Council Postdoctoral Fellow from 2011 to 2012 at Trinity College, where he taught contemporary literature. He won the 2018 Wellcome Book Prize for To Be A Machine, and the 2019 Rooney Prize for Irish Literature.
Roisin Kiberd is a writer and journalist from Dublin who has written several pieces for the Stinging Fly, and her writing about modern technology has been published in The Guardian, The Dublin Review, and Vice's Motherboard, where she wrote a column about internet subcultures.
---
The Stinging Fly Podcast invites Irish writers to choose a story from the Stinging Fly archive to read and discuss. Previous episodes of the podcast can be found here. The podcast's theme music is 'Sale of Lakes', by Divan. All of the Stinging Fly archive is available for everyone to read during the coronavirus crisis.