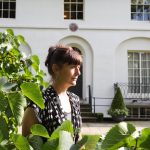 Martina Evans Reads Sinéad Morrissey
The Stinging Fly Podcast
Martina Evans joins Declan Meade in the studio to read Sinéad Morrissey's story, 'The Day I Brought Water'.
Martina Evans is an Irish poet, novelist and teacher. She grew up in County Cork in a country pub, shop and petrol station and is the youngest of ten children. She is the author of eleven books of prose and poetry. Her latest poetry collection, Now We Can Talk Openly About Men, was published by Carcanet in May 2018.
Sinéad Morrissey is a Northern Irish poet. In January 2014 she won the T. S. Eliot Prize for her fifth collection Parallax and in 2017 she won the Forward Prize for Poetry for her sixth collection On Balance.
'The Day I Brought Water' was first published in the Stinging Fly in Summer 2003. It also appears in our recent anthology, Stinging Fly Stories.
---
The Stinging Fly Podcast invites Irish writers to choose a story from the Stinging Fly archive to read and discuss. Previous episodes of the podcast can be found here. The podcast's theme music is 'Sale of Lakes', by Divan. All of the Stinging Fly archive is available for subscribers to read – subscribe now and access 20 years of the best new writing.