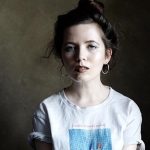 Naoise Dolan Reads Emma Donoghue
The Stinging Fly Podcast
Naoise Dolan, author of the acclaimed debut novel, Exciting Times, joins Declan Meade in studio to read and discuss the subtle gothic horror of Emma Donoghue's 'Looking for Petronilla', a story that appeared back in Issue 11 of the magazine in Winter 2001.
Naoise Dolan was born in Dublin, studied at Trinity College, and completed a master's degree in Victorian literature at Oxford. Her writing has featured in The Dublin Review and The Stinging Fly. Exciting Times has been described by Hilary Mantel as "droll, shrewd and unafraid" – it is published this month by Weidenfeld & Nicolson in Ireland and the UK, and in June by Ecco in the US.
Emma Donoghue is an Irish-Canadian playwright, literary historian, novelist, and screenwriter. Her 2010 novel Room was an international best-seller, and a finalist for the Man Booker Prize – the movie adaptation of the book was nominated for four Academy Awards, including Best Picture. Donoghue's 1995 novel Hood won the Stonewall Book Award, and her novel Slammerkin won the Ferro-Grumley Award for Lesbian Fiction. Her latest novel, Akin, was published last year.
---
The Stinging Fly Podcast invites Irish writers to choose a story from the Stinging Fly archive to read and discuss. Previous episodes of the podcast can be found here. The podcast's theme music is 'Sale of Lakes', by Divan. All of the Stinging Fly archive is available for everyone to read during the coronavirus crisis.