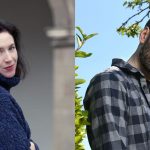 Niamh Campbell Reads Kevin Power
The Stinging Fly Podcast
On this month's episode of the podcast, editor Danny Denton is joined by novelist Niamh Campbell, to read and discuss Kevin Power's darkly surreal story 'The Dead Hotel', which first appeared in our Summer 2006 issue. The issue was published as the short-story anthology, These Are Our Lives.
Niamh Campbell's debut novel This Happy was published by Weidenfeld and Nicolson in 2020, and nominated for the An Post Irish Book Awards, the Kerry Group Irish Novel of the Year Award, and the John McGahern Book Prize. In 2020 she also won the Sunday Times Audible Short Story Award for her story 'Love Many'. Her short work can be found in The Dublin Review, 3:AM, Banshee, Tangerine, Five Dials, Granta, and gorse. She has been funded by the Arts Council of Ireland and is 2021 Writer in Residence at University College Dublin. Her second novel We Were Young is forthcoming with Weidenfeld and Nicolson in 2022. She lives and works in Dublin.
Kevin Power's first novel, Bad Day in Blackrock, was published by Lilliput Press in 2008 and filmed as What Richard Did, directed by Lenny Abrahamson, in 2012. His second novel, White City, was published earlier this year by Scribner. He won the Rooney Prize for Irish Literature in 2009 and the Hennessy XO Award for Emerging Fiction, also in 2009. Kevin is currently Assistant Professor of Literary Practice in the School of English, Trinity College Dublin, and he holds a PhD in American Literature from University College Dublin. His writing has appeared in The New Yorker, The Guardian, Irish Times, The Dublin Review, and the Los Angeles Review of Books.
---
The Stinging Fly Podcast invites Irish writers to choose a story from the Stinging Fly archive to read and discuss. Previous episodes of the podcast can be found here. The podcast's theme music is 'Sale of Lakes', by Divan. All of the Stinging Fly archive is available for everyone to read during the coronavirus crisis.