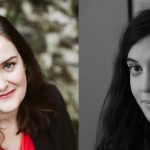 Nuala O'Connor Reads Nicole Flattery
The Stinging Fly Podcast
On this month's episode of The Stinging Fly Podcast, Declan Meade is joined by Nuala O'Connor, to read 'Sing, Dance, Earn Your Keep', an essay by Nicole Flattery first published in the Winter 2015 issue of the magazine.
Nuala O'Connor is a writer of novels, short fiction, poetry, and essays. She also publishes under the name Nuala Ní Chonchúir. Nuala's fifth novel NORA, about Nora Barnacle, wife and muse to James Joyce, was published earlier this year by New Island, and her chapbook of historical flash fiction, Birdie, was recently published by Arlen House. She is the editor at flash e-zine Splonk and she lives in Galway.
Nicole Flattery's work has been published in the Stinging Fly, the White Review, the Dublin Review, BBC Radio 4, the Irish Times, Winter Papers and the 2019 Faber anthology of new Irish writing. Her first collection of stories, Show Them A Good Time, was published by The Stinging Fly Press and Bloomsbury. Her story 'Track' won the 2017 White Review Short Story Prize, and 'Parrot' won the Story of the Year at the Irish Book Awards in 2019.
---
The Stinging Fly Podcast invites Irish writers to choose a story from the Stinging Fly archive to read and discuss. Previous episodes of the podcast can be found here. The podcast's theme music is 'Sale of Lakes', by Divan. All of the Stinging Fly archive is available for everyone to read during the coronavirus crisis.