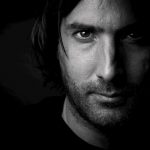 Paul Lynch Reads 'The Dream That Wakes You Up'
The Stinging Fly Podcast
This month on the Stinging Fly podcast, we're taking a little diversion from our usual format to present a lecture by the novelist Paul Lynch. Paul is the author of four internationally acclaimed novels: Beyond the Sea, The Black Snow, Red Sky In Morning, and Grace, which won the Kerry Group Irish Novel of the Year Award in 2018. He was born in Limerick, raised in Donegal, and currently lives in Dublin with his wife and two children.
This lecture, entitled 'The Dream That Wakes You Up', was commissioned by Words Ireland and delivered – via Zoom – to the Bray Literary Festival in September 2020. You can also read this lecture, as well as previous years' lectures by Mia Gallagher and Seán O'Reilly, in full elsewhere on our website.
---
The Stinging Fly Podcast (usually) invites Irish writers to choose a story from the Stinging Fly archive to read and discuss. Previous episodes of the podcast can be found here. The podcast's theme music is 'Sale of Lakes', by Divan. All of the Stinging Fly archive is available for everyone to read during the coronavirus crisis.