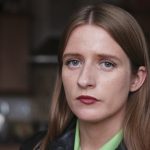 Rachel Connolly Reads Michael Magee
The Stinging Fly Podcast
On this month's episode of the podcast, host Nicole Flattery is joined by novelist and critic Rachel Connolly, to read and discuss a short story, 'Rustlers', by Michael Magee, which first appeared in the Summer 2017 issue of the magazine.
Michael Magee is the fiction editor of The Tangerine and a graduate of the PhD Creative Writing programme at Queen's University, Belfast. His writing has appeared in Winter Papers, The Lifeboat and in The 32: An Anthology of Working Class Writing. Close to Home, his first novel, will be published by Hamish Hamilton in April 2023.
Rachel Connolly is a writer from Belfast. She has written for The New York Times Magazine, New York Magazine, The Guardian, The Baffler, The Financial Times and many other publications. She has also featured as a guest to discuss her work on "This American Life" and several BBC radio programs. Her short story, 'In The End' was published in our Summer 2021 issue. Her first novel, Lazy City, will be published by Canongate in 2023.
Nicole Flattery is a writer and critic. Her story collection Show Them A Good Time, was published by The Stinging Fly and Bloomsbury in 2019. Her first novel, Nothing Special, will be published by Bloomsbury in March 2023.
The photograph of Rachel is by Harry Mitchell.
---
The Stinging Fly Podcast invites Irish writers to choose a story from the Stinging Fly archive to read and discuss. Previous episodes of the podcast can be found here. The podcast's theme music is 'Sale of Lakes', by Divan. All of the Stinging Fly archive is available to subscribers.