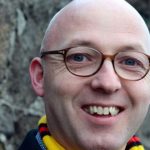 Rónán Hession Reads Zou Jingzhi
The Stinging Fly Podcast
In this month's episode of the podcast, Declan Meade is joined by novelist Rónán Hession to read and discuss the story 'Eight Days', by Chinese writer Zou Jingzhi.
Rónán Hession is an award-winning musician and writer. He wrote and recorded music as Mumblin' Deaf Ro and was nominated for a Choice Music Award for his album, Dictionary Crimes. Leonard And Hungry Paul, Rónán's first book, was published by Bluemoose Books in March 2019 and earned him nominations for both Best Newcomer at the Irish Book Awards 2019 and the Dalkey Emerging Writer Award 2020, as well as 'debut of the year' at The British Book Awards 2020.
Zou Jingzhi is an acclaimed Chinese author who has written extensively for the stage and screen, as well as fiction and poetry. He is a founding member of theatre collective Longmashe, and his opera The Night Banquet was performed in English translation at Lincoln Centre in New York in 2002. 'Eight Days' was published in our special translation issue in Summer 2013.
'Eight Days' was translated from the Chinese by Jeremy Tiang, who has translated novels by Yan Ge, Chan Ho-Kei, Li Er, Zhang Yueran, Yeng Pway Ngon and Lo Yi-Chin, among others. He also writes and translates plays. His novel State of Emergency won the Singapore Literature Prize in 2018. He lives in New York City.
---
The Stinging Fly Podcast invites Irish writers to choose a story from the Stinging Fly archive to read and discuss. Previous episodes of the podcast can be found here. The podcast's theme music is 'Sale of Lakes', by Divan. All of the Stinging Fly archive is available for everyone to read during the coronavirus crisis.