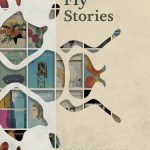 'Stinging Fly Stories' – Anthology Podcast with Sarah Gilmartin
The Stinging Fly Podcast
The Stinging Fly Podcast returns for a very special episode, with Sarah Gilmartin joining Sally Rooney in the studio to discuss five of the stories collected in our brand new anthology, Stinging Fly Stories. Sarah is the co-editor of the book, which presents 40 stories from 40 different writers and celebrates the first 20 years of The Stinging Fly.
During this episode, you will hear excerpts from 'Adventure Stories for Boys' by Kevin Curran, 'The Quiet' by Carys Davies, 'Night of the Silver Fox' by Danielle McLaughlin, 'Hump' by Nicole Flattery, and 'Last Days of the Buffalo' by Kevin Barry. The stories are read by Karl Parkinson, Nora Pyne, Lucy Sweeney Byrne, Leona Lee Cully, and Oisín Fagan respectively. 
Sarah Gilmartin is an arts journalist who writes a weekly column on debut fiction for The Irish Times and also reviews for The Sunday Times, Sunday Business Post and Irish Examiner. She lectures in feature writing at Dublin City University and Dublin Business School.
Stinging Fly Stories is available in shops now. It can also be purchased directly from our store. As part of Cúirt International Festival of Literature, the book will be launched in Galway on April 26th, at 2.30pm in Bite Club, 36 Abbeygate Street Upper. The Dublin launch will take place at 6.30pm, May 2nd, at the Workman's Club, Wellington Quay, Dublin 2. Admission to both events is free.
The Stinging Fly Podcast invites Irish writers to choose a story from the Stinging Fly archive to read and discuss. Previous episodes of the podcast can be found here. The podcast's theme music is 'Sale of Lakes', by Divan. All of the Stinging Fly archive is available for subscribers to read – subscribe now and access 20 years of the best new writing.