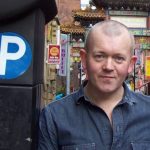 Conor O'Callaghan Reads Claire-Louise Bennett
The Stinging Fly Podcast
In this month's episode of the podcast, Danny Denton is joined by novelist Conor O'Callaghan to read and discuss the essay 'Suddenly A Duck', by Claire-Louise Bennett.
Conor O'Callaghan was born in Newry in 1968 and grew up in Dundalk. His first novel, Nothing on Earth, was published in 2016 and was shortlisted for the Kerry Group Irish Novel of the Year. His second novel, We Are Not in the World, is due to be published in February 2021. He has also published five collections of poetry, and a memoir: Red Mist: Roy Keane and the Football Civil War, an account of Roy Keane's departure from the 2002 FIFA World Cup squad. He currently lectures at Sheffield Hallam University in the UK.
Claire-Louise Bennett's short fiction and essays have been published in several publications including The Moth and The Irish Times. She received the inaugural White Review Short Story Prize in 2013. Her first book, Pond, was published in 2016 by The Stinging Fly Press. A novel, Checkout 19, will be published by Jonathan Cape next year.
---
The Stinging Fly Podcast invites Irish writers to choose a story from the Stinging Fly archive to read and discuss. Previous episodes of the podcast can be found here. The podcast's theme music is 'Sale of Lakes', by Divan. All of the Stinging Fly archive is available for everyone to read during the coronavirus crisis.