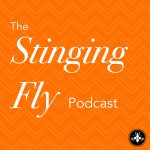 Sara Baume Reads Deborah Rose Reeves
The Stinging Fly Podcast
For the second episode of our monthly podcast, Sara Baume reads 'Lay Down The Dark Layers' by Deborah Rose Reeves, and talks about art, loneliness and the drama of the quarter-life crisis with Sorcha Kenny. 
Deborah Rose Reeves was born and raised in Dublin. She is currently settled in rural Oregon and working on her first novel. 'Lay Down The Dark Layers' was published in Issue 29, Volume 2: Winter 2014. Another of Deborah Rose's stories, 'Enough For Keeping', was published in Issue 30, Volume 2: Spring 2015, and can be read here. She can be found at deborahrosereeves.com.
Sara Baume was born in Lancashire and grew up in County Cork, Ireland. She studied fine art and creative writing and her fiction and criticism have been published in anthologies, newspapers and journals such as the Irish Times, the Guardian, The Stinging Fly and Granta magazine. She has won the Davy Byrne's Short Story Award, the Hennessy New Irish Writing Award and the Rooney Prize for Literature. She has published two novels, Spill Simmer Falter Wither, and A Line Made by Walking. She lives in West Cork. Sara's contributions to The Stinging Fly can be found here.
---
Every month, The Stinging Fly podcast invites Irish writers to choose a story from the Stinging Fly archive to read and discuss. Previous episodes of the podcast can be found here.