In Object Lessons (1996), Eavan Boland describes how isolating life was for a woman beginning to publish poetry in the 1960s:
Irish poetry was predominantly male… Now and again, in discussion, you heard a woman's name. But the lived vocation, the craft witnessed by a human life—that was missing. And I missed it. Not in the beginning perhaps. But later, when perceptions of womanhood began to redirect my own work, what I regretted was the absence of an expressed poetic life which would have dignified and revealed mine… Isolation itself can have a powerful effect in the life of a young writer.
How times have changed. In Ireland's vibrant, contemporary poetry scene, both stage and page, there is no longer an absence of female voices—all four nominees for last year's Strong-Shine award for best début collection were women.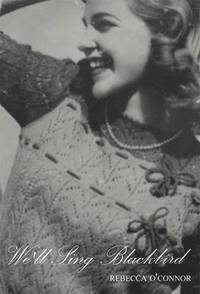 One of these nominees was Rebecca O'Connor. Her collection We'll Sing Blackbird is an elegant volume from Moth Editions, a delicate, polished gem in which she navigates the reader through dreamscapes, rural landscapes, and domestic scenes. These are poems that have the unambiguously real taste of an Irish childhood, capturing, for example, the feverish religious lust of a girl on communion day:
I was his lucky bride, and He was lucky to have me,
just turned seven and salivating
The lush, sensuous use of language in these lines is characteristic of O'Connor's style, and is also evident in the lustrous simplicity of 'Snails' 
('The snails are plump and white,/ripe for salt'), 'Fish Wife' and 'Birth of a Cow'. The recurring motif of crows swoop through multiple poems. In 'Devil', the speaker confides fears of childhood, including 'crows./Crows./I'm still trying not to let them terrify me.' 'May Day Wedding' sees newly-weds sip champagne 'in the shade of a rookery/where one of the fledglings is splayed/on a branch above its nest/like a feathery black kite', and later, standing with a baby at a window, 'singing the words to outside', crows and rooks fly. The deft development of this image is indicative of O'Connor's poetic skill.
The poet's voice is nimble, light, assured. The poem 'A Year In Notes' is magnificent, a stream of consciousness reflecting the chaotic jumble, the wild to-do lists that lead us through life. Interestingly, it echoes previous parts of the collection in a manner reminiscent of the Arcade Fire album The Suburbs. In the poem 'Life after Death', only a few pages before 'A Year In Notes', the first line:
my thoughts are all opposed to that streak of red fox in the field 
black clods of thought that cling to the spade that lifts them 
assumes a different meaning owing to the context of the poem's title and the lines that follow it. The reader is compelled to question its reappearance and significance in 'A Year In Notes':
– buttermilk, prawns, limes, ice, camembert, duvet – write me a drum – email Jim – celebrating our first birthday – tractors/farmers, bogeymen, etc. – holidays in Dingle June 2010 – I'm in London for three days – Powers Gold Label – My thoughts are all opposed to that streak of red fox – CLUTCH, BRAKE, GLANCE, LANE, MIRRORS, INDICATOR – I don't know, I just want to get back home
The repetition of the 'red fox' line gives the reader an insight into the crafting of a poem, the manner in which lines of work impose themselves onto the familiar day-to-day tasks of life.
The everyday moments of motherhood are cast in a refreshing light here, intimate, unembellished and very real, as in 'I dandle the baby on my knee while I take a piss' (from 'Thanks to Nicola Barker for the Yips'). The superb closing poem 'Ember' features George and Peppa, characters that will be familiar to parents of small children. The speaker finds hope amidst the small moments of parenthood, where:
the sun seeps wetly through
to remind me that something smoulders,
something still burns.
Something burns, too, in Kimberly Campanello's first collection. Consent is a refreshingly audacious work of intellect and physicality. In a very broad sense, Consent covers the customary thematic ground of a first collection (coming of age, heritage, autobiographical elements). The poet effortlessly traverses landscapes and cityscapes between Ireland, Europe and her native USA, lending a vitality and a momentum to her work. In the poem 'Sunday Morning', she sets out a manifesto of sorts:
this is the point in the poem where I must sing such beauty.
The world—its complexities and contradictions.
From the opening lines, there is the tangible sense of an agenda, a careful deconstruction of explicitly-stated concepts:
Shit makes me
involuntarily hungry.
Shit or its wafting smell.
Rape makes me
involuntarily horny.
Rape or a scene of rape
(portrayed).
Consent is psychological.The poet proceeds to interrogate this issue through each poem, with an unrelenting eye. You will find no easy condescension to issues of poverty or race here, as Campanello acknowledges the gulf between rich and poor in the poems 'The Maya', 'A Man', 'Three Boys' and 'Cut And Pressed'. The reader is led to explore the 'what-ifs' of life, the sense of openness and possibility that goes hand in hand with youth in poems like 'Joanie's Blue Crab Shack' and 'The Maya'.
Perhaps the most striking element in this collection is Campanello's voice. It is frank, intimate, immediate, guileless, blunt. The body in all its physicality and discharges is examined here with a closeness and fearlessness that is breathtaking. Flesh is described in careful, unflinching detail, whether female genitalia ('Chicken Skin', 'Squatters'), or male, as in the spectacularly surreal 'Sunday Morning':
there it was, the test of my poet's vision:
the longest, sweatiest foreskin I have ever seen
pink and glistening in the sun like folded, sliced ham.
This 'test of my poet's vision' is something Campanello never shies away from. In fact she seems drawn to details others might consider unpoetic, and dexterously renders their particular beauty in poetic terms so precise that the reader is wonderfully and repeatedly surprised.
A minor complaint: three pages of explanations and epigraphs is excessive, and the presumption that the reader is incapable of surmising (or googling) certain meanings (e.g. saw grass, J-crew, Rathmines) can feel condescending.
However, this is poetry that is vivid, explicit, fearless, full of substance and grit, and Doire Press are to be commended for bringing such a vibrant new voice to light. Campanello, like Billy Ramsell, is attempting something new, something challenging and inspiring and radical, something that hasn't been seen before in contemporary Irish poetry. In my opinion, not only does she succeed in this attempt, her work wildly exceeds expectation. This collection is essential reading.
We are familiar with political elements of Elaine Feeney's poetry, but in The Radio Was Gospel she reveals a more personal exploration of her world. This is Feeney's third collection; we, the readers, are in the hands of an experienced writer who has been wrestling with poetry on page and on stage since 2006. The Radio Was Gospel is a continuous work of poetic muscle, an unequivocal song of the heart. It is also an intimate glimpse into the subjective moments that make a woman. Feeney's register and tone is endearing throughout, veering as it does between loud, passionate lungfuls and whispered secrets that confide in the reader and make one want to lean closer and listen.
In this collection, Feeney makes a powerful statement: strong women beget strong women. Her mothers and foremothers are repeatedly referenced and respected. The tenacity and grit of women is a recurring theme. Motherhood is explored with honesty and precision, in poems that steer clear from the saccharine ('Child', 'War', 'Boy') and argue against the seductive simplicity of allowing oneself to become subsumed in motherhood ('Sylvia Plath You Are Dead'). Feeney engages with literary forefathers with wit and an arched eyebrow ('Man', 'Saving Turf with Leopold Bloom'). 'Mass' is a strong piece, essentially a very long list poem, a structure that invariably works well aloud but wilts a little on the page. There are echoes of more contemporary poets here too, the ghost of (perhaps the most powerful Irish poem of the past twenty years) Tom French's 'Pity The Bastards' is very keenly felt in Feeney's 'Pity the Mothers'.
In terms of craft, there are weaker elements here that disappoint: fragmented sentences confuse the reader again and again, continuity of punctuation is lacking ('Horse Dealers'), and in some poems these errors run the risk of incoherence:
But all of us were and none of us were
and children can smell that love and lies.
                                         (from 'The Radio was Gospel').
One poem ('Junior Infants') ends mid-sentence, giving the false illusion of an ending, only to pick up again on the following page. This leads to confusion for the reader. As this collection nears one hundred pages, it strains the reader's patience at times and could certainly have benefited from some judicious editorial pruning. It is testament to Feeney's remarkable poetic voice and the vividness of her work that she manages to rise above these issues, and continue to hold the reader in her thrall despite these structural slips. In the marvellous 'Bog Fairies', she excels. Here, she vividly re-creates a world where:
We dragged ten-ten-twenty bags
with the sulphury waft of cat piss,
along a track dotted
with deep black bogholes
This is a very fine poem indeed. Feeney doesn't shy away from the complexity of relationships, as she writes a refreshing, nuanced take on marriage ('Indulgence', 'Drowning'). The Radio Was Gospel is very much an Irish book, of Irish bogs and farms, and Hiberno-English ('Bad sessht to them,/ twas a terrible ordeal'—from Daughter). Many experiences detailed here have a certain universality, and readers may feel a familiarity with the world that the poet creates, whether school ('Crayon Rubbings'), play ('Easter Eggs') or the tentative matchmaking of teenagers in 'A First Shift'. She is unflinching in her clear-eyed, vibrant observations of old and new Ireland ('Biteens', 'Electric Picnic'). As we are warned in the titular poem 'The Radio Was Gospel', 'these are dangerous lessons'. Elaine Feeney, however, is fearless.
In a chorus of diverse female voices such as O'Connor, Campanello and Feeney, no longer must a woman writer lament, like Boland, 'the absence of an expressed poetic life which would have dignified and revealed mine'. 2014 will see the publication of new poetry collections by long-established poets like Vona Groarke (whose volume X is a Poetry Book Society recommendation for Spring 2014), along with new voices Caoilinn Hughes, Dimitra Xidous, Kerrie O'Brien and Jessica Traynor, and many others. As Rita Ann Higgins has written: Ireland is changing, Mother.